3 Reasons Why You Need Professional Water Heater Installation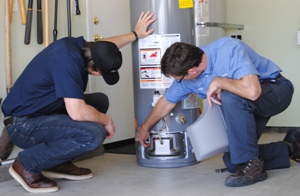 So, you bought a new water heater. Now what? You need to install it. Before you throw your tool belt on and go to work, let us point out that self-installation is never a good idea. Unless you're a licensed and experience plumber, you should let the pros handle this part of the process.
Here are 3 reasons why professional water heater installation is always the right choice.
Protect Your Investment
A water heater is not a cheap purchase. Depending on the model you choose, you may have spent well over a thousand dollars. If you install the water heater incorrectly, you could end up damaging the unit and rendering the appliance useless.
Protect Your Warranty
Did you know that you could inadvertently void your unit's warranty if you do not have it installed professionally? Read the fine print and you'll likely notice any problem that arises due to ineffective, unprofessional installation will void your right to a replacement or no-cost repairs.
Protect Your Well-being
Every year ambitious homeowners are seriously injured while attempting to install water heaters. Injuries may occur due to accidental tipping (getting pinned under the appliance) or due to explosions because a gas line wasn't hooked up to a gas heater correctly. Professional installation guarantees your safety.
When you're ready to install a water heater, give one of our Simi Valley plumbers a call. If you're buying from Home Depot, Lowes, or another big-box home improvement store, keep in mind that their installation services are not the same as ours. With big-box installation services, you're usually getting a third-party installer who isn't going to be available if there is a problem down the road.
Working with the plumbers at Simi Valley Plumber Pros, installation is always guaranteed and if a problem arises down the road, you'll know exactly who to call.
Tags: water heaters